Blog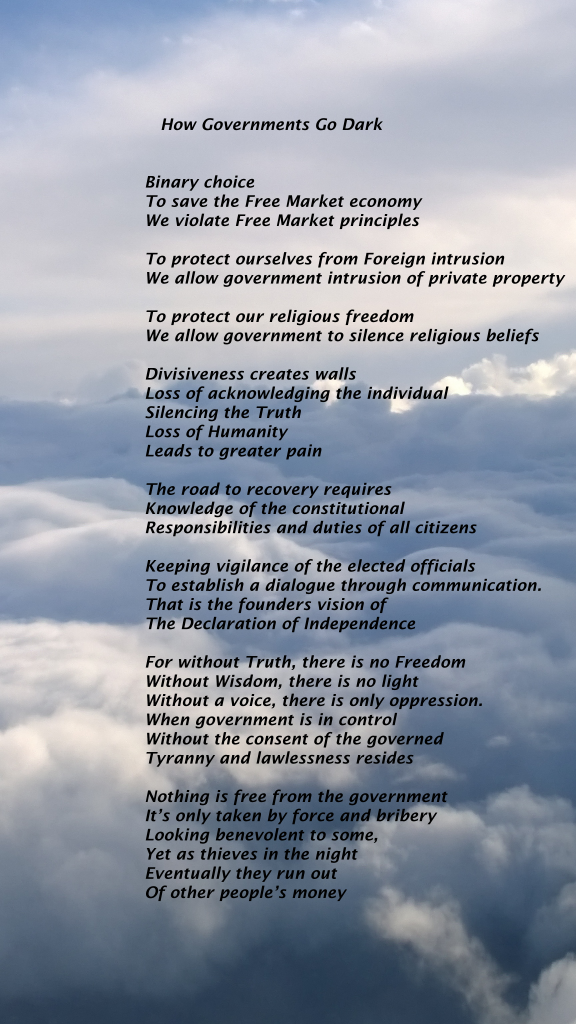 Binary Choice
To save the Free market economy
We violate Free Market principles
To Protect ourselves from Foreign intrusion
We allow government intrusion of private property
To protect our religious freedom
We allow government to silence religious beliefs
Divisiveness creates walls
Loss of acknowledging the individual
Silencing the Truth
Loss of Humanity
Leads to greater pain
The road to recovery requires
Knowledge of the constitutional
Responsibilities and duties of all citizens.
Keeping vigilance of elected officials 
To establish a dialogue through communication.
That is the founders vision of
The Declaration of Independence.
For without Truth, there is no Freedom
Without wisdom, there is no light
Without a voice, there is only oppression.
When government is in control,
Without the consent of the governed
Tyranny and lawlessness resides.
Nothing is free from the Government
It's only taken by Bribery or Force
Looking benevolent to some,
Yet as thieves in the night
Eventually they run out 
Of other people's money.